Well!  This post has certainly been a long time in coming, and I think the way to begin in earnest is to relay a brief history of how I came to my current self-proclaimed role as America's Swim Photographer…
The Journey Begins
The journey begins with with my time as a 35y freestyler at Georgia Tech: it was pretty fast.  The full 50y, however, nothing to write home about.  Perhaps my crowning athletic achievement at Tech was being out-touched by Anthony Ervin in the 12.5y freestyle by .03 seconds (Ervin's 3.82 to my 3.85) in a high-altitude sprinter's delight versus Cal Berkeley my sophomore year.  We'd moved the bulkhead in at Colorado Springs during Christmas training to practice breakouts and turns, and I guess the coaches thought it'd be fun to see if Ervin could break 30 seconds on a 7-flipturn 100.  I'm still good to give "the old college try" for 3.85 seconds to most activities.
I'd love to post some sweet action pics of myself shredding water, but unfortunately I have only this hatchet job GT Sports Information used on me for four years and a few loosely composed, super-noisy pictures my dad took from the stands at one of our dual meets: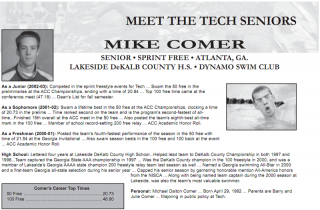 I'm fairly sure our team nutritionist, Rob Skinner, shot this (he was, at the time, an avid amateur photog).  And I thought we were friends…
So I was a swimmer in college, and one of my hobbies was taking pictures of my friends with the Nikon F601 film body my dad had given me to use on my first trip abroad.  The thing I liked best about photography at that time was getting pictures back after I'd eventually exposed a whole roll of film – always a happy memory I'd forgotten!
The Journey Gets Slightly Closer to Talking about Swimming Photography
In addition to being a lactic-acid-plagued water type and hobbyist photographer, I was also a summer league swim coach in my glory days for the Leafmore Creek Park Dolphins of Decatur, GA.  Notorious for the funky chicken cheer I learned from Jim McGinnis (the current Head Coach of Tidal Wave Swimming), I loved being "Coach Mike" and letting the 6-and-Unders draw on me with sharpies to get themselves pumped up for their races.  Our team parents had put the ix-nay on ceremonially scalping a fake stingray (shark, marlin, etc.), but seeing me chicken walking around the pool under the influence of sharpie fumes seemed to do the job of intimidating most other teams' 6-year-olds.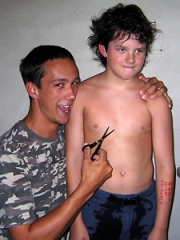 Pictured here is David, one of my favorite swimmers of all time.  He'd grown his hair out all summer to prepare for county, and I got to give him his war mullet.  You may have seen swimmers like Dan Madwed of Club Wolverine sporting mustachios around the Grand Prix as a Samsonian tribute to David.
One fateful day while I was coaching, I got the bright idea of buying a waterproof housing for my Canon S50 pocket camera so we could have cool pictures to include in the banquet slideshow.  Here's a selection of some of my favorites: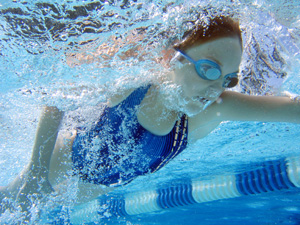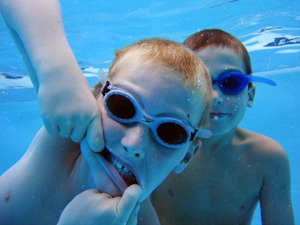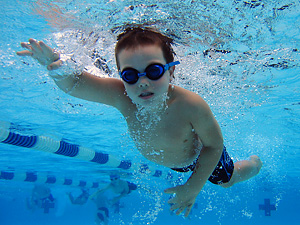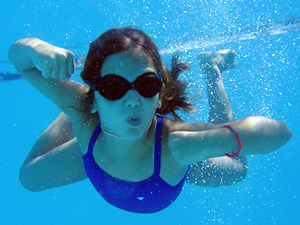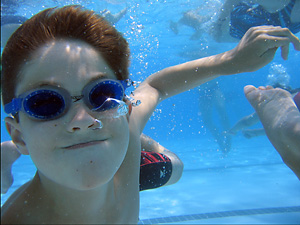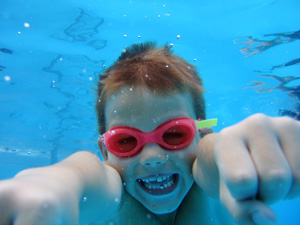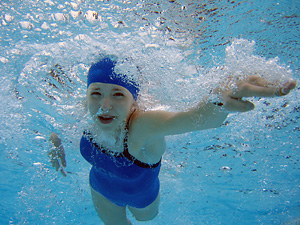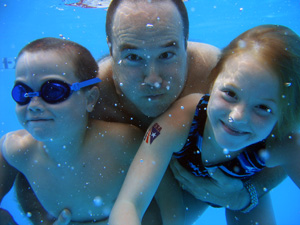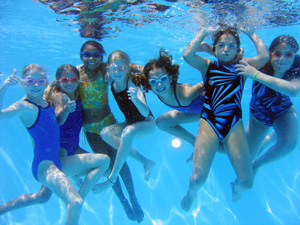 I love the angle of the action shots because you get a natural view of the swimmers' faces when they're not gasping for a quick breath between strokes.  The surface lighting is also neat, and the ripples provide an interesting background without being overly distracting.  One day I intend to resume taking underwater action shots commercially.
I thought the images really turned out well, and having a touch of the entrepreneurial spirit, I decided I'd try to sell the pictures to our team parents as a supplement to my coaching and swim lessons income.  So I bought a couple of 6' tables, had a banner made for "Coach Mike Photography" at the local Fast Signs, and setup a fledgling e-commerce site.
More Matter, with Less Art
Thus were the beginnings of my life as a full-time sports photographer.  Bitten hard by the photo bug, I started buying Popular Photography at the grocery store and commandeered my dad's D70 and 80-200mm f/2.8 Nikkor for action shots above water (this has become a tradition: I now shoot with his D700 body, which I borrowed after having to sell both of my D700s to raise cash in 2010).  My big break came when meet director ne plus ultra Ed Saltzman called me out of the blue one day because he needed a last-minute stand-in to cover the 2006 Southern Zone meet in Atlanta.  He'd apparently heard I was shooting some local summer league meets.  Having no clue what the job would require, I put a used Nikon D2H, first-generation autofocus (push/pull) 80-200, and a couple of laptop computers on my credit card.  I also enlisted the help of my dad and a few of my friends – Terry Bardagjy, Daniel Truran, and Dr. Joe Weissman – who didn't know better than to say "no."  Despite losing a disk of original images and almost burning up my dad's flash with AAs during awards, we had a lot of fun and learned a lot too at Zones that first year.
Since then, whenever people have asked what exactly it is that I do, I tell them I'm a full-time event and editorial photographer who only covers the sport of swimming.  Our site relays our mission: "to bring true professional photojournalism to swimmers and their families."  By this I mean I want to give Joe Swimmer (like myself) who has invested an enormous amount of time, effort, and resources in a largely unglamorous sport, the opportunity to have his picture taken during the peak of his physical fitness and doing the sport he's sacrificed his otherwise wavy and well hydrated hair to.  It means telling the "story" of a race – behind the blocks, dive, action, finish, talking to coach, and anything I can add by way of details – before photographing the swimmer two heats later on the other side of the pool.
It also means delivering quality.  Until last year, USA Swimming (USAS) hired Getty Images to do all of their event photography on the Grand Prix and at international competitions with good reason: their photographers lead the industry in creative imagery.  When I was first getting into all of this, Donald Miralle (a member of UCLA's last men's swim team), was one of Getty's big guns, and his work has been the inspiration for what I do.  Though I've never met him, I owe him a debt of gratitude for showing me through his work how to think outside of the frame and push the limits of what's possible in a 2D medium.  I modeled ProSwim's Web site after his, and I'm sincerely hoping to meet him at Trials this year.
Fin (Sorry, Can't Resist a Pun)
I said "until last year" for Getty's USAS coverage because in 2011 they hired me to cover three events on the Grand Prix instead.  Miralle, I believe, no longer shoots on staff for Getty (only special events), and I'm sure it's less expensive for USAS to hire me.  But the victory here in my eyes is that the quality I'm producing is on par with what USAS would expect to use in Splash. This year, you'll see images I've taken at Trials and at every Grand Prix leading up to London on www.usaswimming.org -> News -> SwimCam Galleries.  Here is a direct link.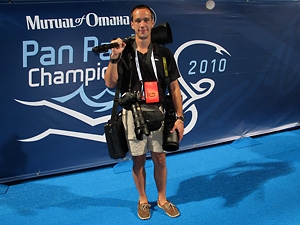 Here's me on deck shooting for USAS at PanPacs in 2010.
So why "America's Swim Photographer"?  I'd like to think it's not hubris, but rather my contribution to USAS's America's Swim Team campaign.  As a member of America's Swim Team, age groupers around the country get to feel the camaraderie of being a part of Michael Phelps and Natalie Coughlin's same team.  As America's Swim Photographer, I want to ensure Joe Swimmer has the same access to truly professional photography as do his superhuman teammates.