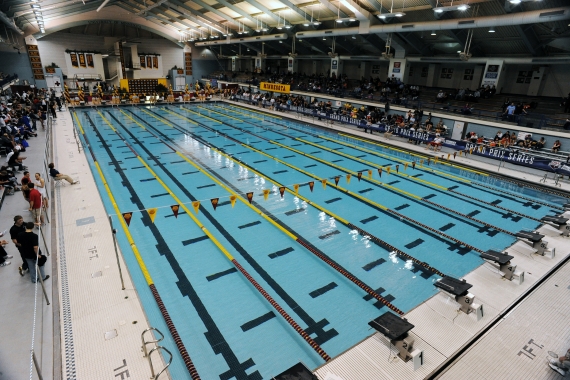 Back in the, er… Kneepads
It's the start of a new swim season, and I have to say I'm stoked.  Partly it's because I love to travel, but mostly I'm excited about achieving a longstanding goal: photographing an entire USA Swimming Grand Prix from start to finish.  This being an Olympic year, London looms large in the minds of all deck walkers, and it's bringing out the best in National Team veterans and hopefuls alike.  It's also bringing some of our best back into the pool: Hansen, Evans, Ervin… I can't wait to see how it all unfolds!  On a personal note, I also can't wait to kick off the season hanging out in Minneapolis with the TakeItLive crew, my friends from LA who stream the Grand Prix live to your iPad, and with my friend Tommy, the rock star (literally) coder who wrote the software for my shopping cart.
Killer Instinct
The swimming in Minnesota didn't disappoint.  I've photographed Michael Phelps many times before, and it's always the case that the wire photographers focus on him to a fault.  This time, however, he really was the story.  Not so much because of his times, which were blazing as usual, but for a reason that's as hard to articulate as it is to see from the stands.  The best way I can describe it is this: the look in his eye says Phelps is back to taking swimming seriously.  No more losing the 200 Fly.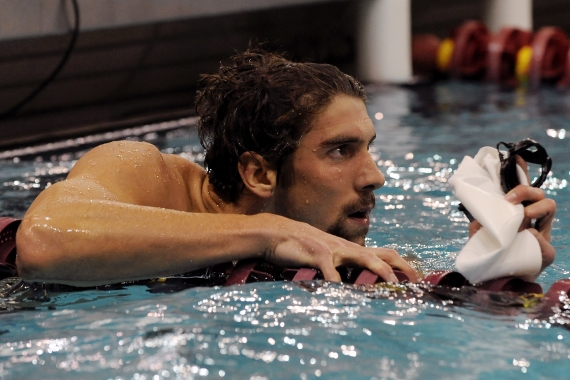 For whatever reason, I've never seen Phelps look hungry like this since I started shooting fulltime in 2009.
Standing close enough to swat him with a kickboard, I could literally feel the energy in Phelps's start Saturday night.  It was like a dirty bomb of ATP going off on deck, and it startled me.  I mean, in your head you know he's fast.  But you don't really get a sense of just how explosive he is until you're that close.  Maybe I've just never noticed it before, but my take is that Phelps is tired of losing events he knows he can win and with the one competition that truly matters to him a clip meet away, he's ready to compete for-realskies again.
Brendan Hansen was the other swimmer conspicuously sporting the "eye of the tiger" in Minneapolis. To my knowledge, he hasn't said as much on record, but the look in his eye says, "the rest of you guys are playing for second."  For my part, I'm glad to see him competing again, and I even have to acknowledge a small part of me that enjoys seeing 30 by his name in the heat sheet.  He's no Dara Torres, but seeing him still swimming at the highest level somehow makes me feel better about turning the big 3-0 in April…
Hansen prefers to wear his heart on his swim cap instead of his sleeve.
Here's a gallery of my shots from the meet:
Best Money I've Spent in a While
Outside the swimming, Minneapolis was a great time.  I kicked it concierge style with Chris (a.k.a Big Clundie) and the TakeItLive crüe (a.k.a. America's Stream Team a.k.a. LiveSwim.net) for the duration, and we even had the good fortune of meeting Tubby Smith on the way to the pool one morning while feeding my bagel addiction.  It also may or may not be the case that we ate a power lunch at an undisclosed location Thursday before touring White House Custom Colour, one of the nation's largest and best photo labs.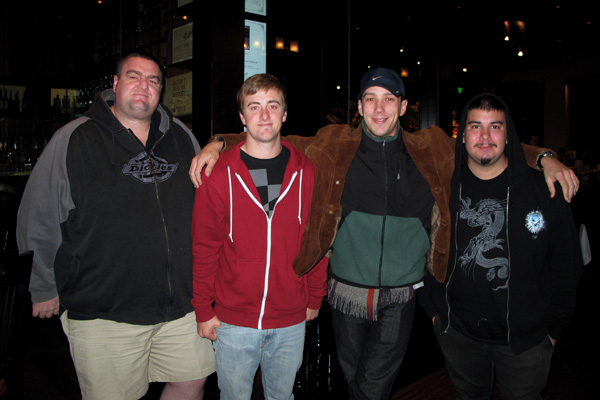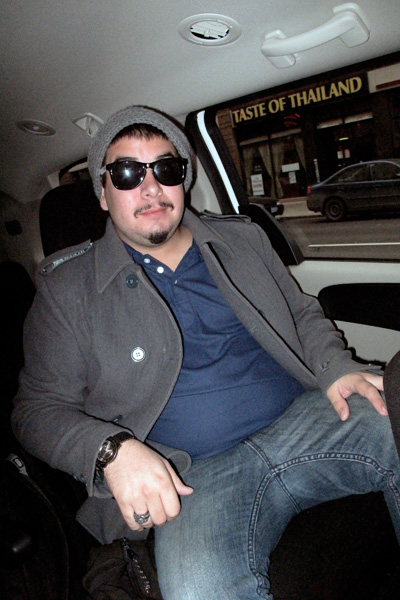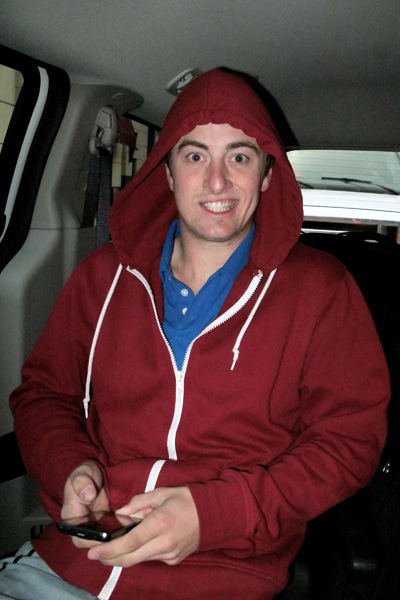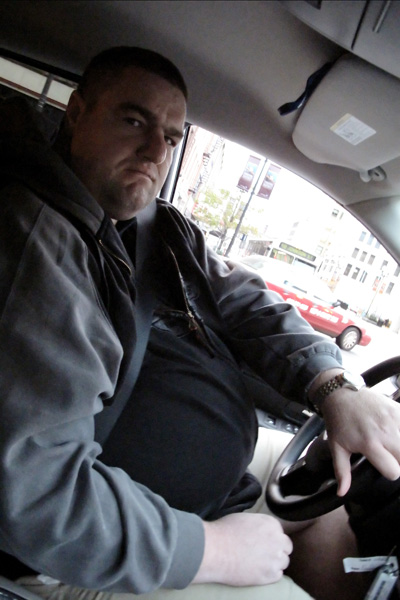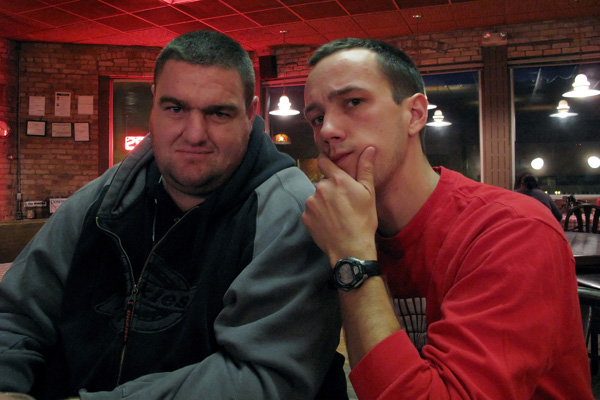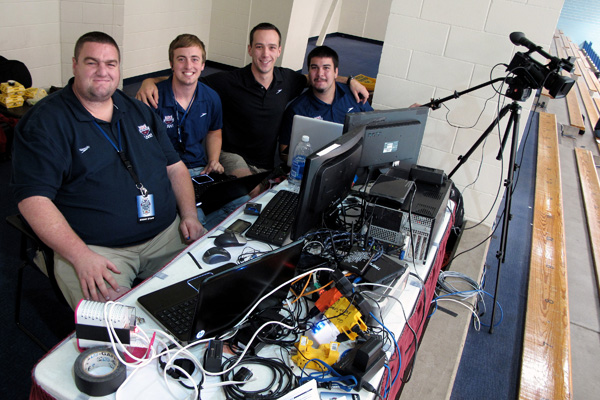 Hanging out with the boys – Ms. Cludnie is watching!
The coolest part of the meet was getting picked up last-minute by USA Swimming to shoot the Golden Goggles next weekend(!) in LA.  I've had this on my radar, especially since the Catalina Swing Dance Festival is also next weekend, but I hadn't heard back about whether or not I'd be shooting it.  When I got the good news, I immediately booked my flight and full weekend pass for Catalina SDF from the media room (well, media hallway anyway).  You know it's going to be a good event when the suggested attire is top hats and tails one night and zoot suits the next.
So there I was, owner of a freshly minted Golden Ticket, thoughtlessly babbling on about my own good fortune in the media hallway, when fate smiled upon me one last time: I caught the ear of PressWire's stringer for the event, the friendly and talented Greg Smith.  A fellow romantic, Greg suggested I fly my fiancé, Megan, out for Catalina too.  10 minutes later, Megan had both a cross-country flight and a hole punched on her dance card.  Next weekend is going to be – wait for it – legendary!
Twin Cities Swing
I should have mentioned: I'm a bit of a swing dance junkie in addition to being quasi-homeless.  My particular vice is the lindy hop, an 8-count version of swing I learned from Eric and Stephanie Simpson while teaching high school English.  As part of my Grand Prix Odyssey this season, I plan to hit up the local lindy hop scenes, and I got things started off on the right foot with Twin Cities Swing at the Social Dance Studio in Minneapolis: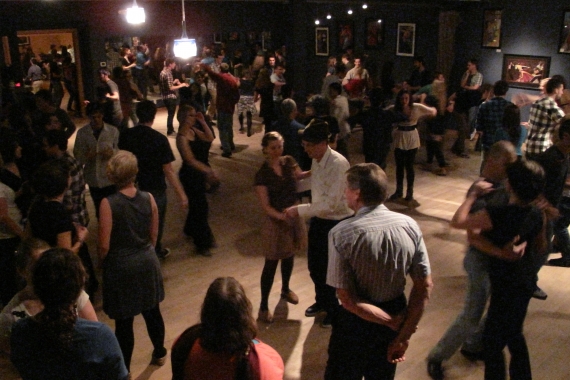 The place was packed – what a great scene!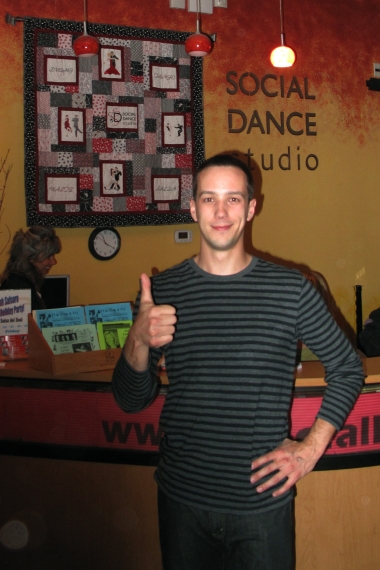 Yours truly
I CANNOT WAIT for next weekend – stay tuned for images and stories from the Best Coast!